Home
»
Government Jobs
»
Science and Research Jobs
» Institute of Genomics & Integrative Biology (IGIB) POSITIONS OPEN FOR TEMPORARY RESEARCH PROJECT POSTS - Openings for Research Associate, Scientists, JRF and Project Assistant at IGIB - Last date : 28 June, 2012
Institute of Genomics & Integrative Biology (IGIB) POSITIONS OPEN FOR TEMPORARY RESEARCH PROJECT POSTS - Openings for Research Associate, Scientists, JRF and Project Assistant at IGIB - Last date : 28 June, 2012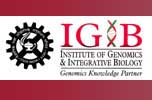 Institute of Genomics & Integrative Biology (IGIB) POSITIONS OPEN FOR TEMPORARY RESEARCH PROJECT POSTS - Openings for Research Associate, Scientists, JRF and Project Assistant at IGIB - Last date : 28 June, 2012
Institute of Genomics & Integrative Biology (IGIB), desires to engage qualified incumbents on purely temporary basis as detailed below:
Openings for
Research Associate, Scientists, JRF and Project Assistant
in following projects
Last date Of application : 28 June, 2012
Date of interview -- July 20, 2012 at 10:30 AM
Project Titles:
"Genetic determinants of birth weight and growth trajectory and influence of parental genotype on these anthropometric indicators"
(Project Code: GAP0090)
"Hijacking of host lipid droplets by intracellular pathogen Mycobacterium tuberculosis" (Project Code: GAP0088)
"Screening for antimicrobial peptides & bioactive molecules from microbial diversity of forest ecosystem of NE India: A novel
approach for development of antibiotics against multi-drug resistancepathogens (DBT Twinning Programme for NER)"
(Project Code: GAP0085)
A comprehensive pharmacogenetic study of ABC transporter genes implicated in response to antiepileptic drugs"
(Project Code: GAP0091)
"Technological Improvement of a process of biological reduction of AOX colour, COD and BOD of waste water emanated from large pulp & paper industries" (Project Code: GAP0054)
Molecular mechanisms by which metastasis suppressor, Non Metastatic 2 (NME2) interacts with telomerases: potential connection between metastatic progression and telomerase activity" (Project Code: GAP0077)
Electrochemical DNA Biosensor for meningitis" (Project Code: GAP0065)
The eligible applicants have to email their resume in "MS Word" format directly to hrd@igib.res.in by 28-06-12. No application would be entertained with "result awaited" status or after due date.
(In subject line of the email please mention: "
application for July 2012"example: GAP0089 application for
SRF (Project) July 2012). Kindly write correct project code and format otherwise application will not reach to the concern department. The email will be sent to the short listed candidates.


For more info please visit the Institute of Genomics & Integrative Biology (IGIB) WEBSITE :

Url : http://www.igib.res.in/pme/other_positions_open.htm

The shortlisted candidates, who have received the email for interview, have to report at 09:30 AM for interview along with any Photo ID card and original certificates for entry purpose. Entry will be closed by 10:15 AM.
MORE RESEARCH JOBS



For Latest Job openings click here
Please read the advertisement document carefully and make sure you are eligibile as per the eligibility criteria mentioned in the document.
Please visit the recruiter's official website to confirm the recruitment information, read the official job notification carefully and make sure that you are eligible for the respective post and then apply. It is applicants responsibility to confirm the validity of Job opening.
How to Share this post?
To share this post , please copy the text given below and share it with your friends or use the
Share & Like
buttons.
Institute of Genomics & Integrative Biology (IGIB) POSITIONS OPEN FOR TEMPORARY RESEARCH PROJECT POSTS - Openings for Research Associate, Scientists, JRF and Project Assistant at IGIB - Last date : 28 June, 2012
http://www.vacanciesonline.in/2012/06/institute-of-genomics-integrative.html
comments powered by

Disqus
SEARCH SIMILAR JOBS

Subscribe to Recent Posts by Email

Stay connected to VO with regular Email notices of new Job Postings, MNC Walk-ins and other Career Infos. Updates will be delivered to your Inbox as soon as they are posted online.